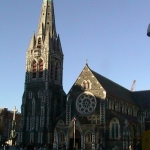 New Zealand in 2003 a long journey from Rome to London, from London Heathrow to Los Angeles and from Los Angeles to Auckland more than 28 hours of flight (on the plane) plus a a lot of hours in various airports.
The arrival in Auckland at 5 am is unforgettable, as is New Zealand. A little gold painted toyota Yaris and lots of miles along the streets of the north island and the South island. The trip, organized by our travel agency "Pirgy Travels" was the result of a merge of two travel packages (North and South Islands) where, by changing some stay and some stop, we got a mix not too stressful, which allowed us to appreciate a wonderful country where we left the Heart … Auckland with the surrounding bay which still smelled of the America's Cup, his long bridge, the Bay of Islands and the Coromandel Peninsula.
The beautiful volcanic areas of Rotorua and the pride of the Maori population (if you've never seen, look at the wonderful film "Whale Rider"). The visit of the reconstruction of an ancient village with a ceremony of acceptance of the visitors and a HAKA (war dance)
Then a stop at the beautiful Hotel Bayview Chateau Tongariro, with views of Mount Ruapehu and the never tamed Tongariro. Before leaving the North Island a refreshing break in Wellington, the beautiful capital city with a great level of quality of life. Very interesting is the beautiful Te ​​Papa Museum.
Taken the ferry between the two islands and pointed toward the Tasman Sea to see the Abel Tasman national park.
Then a trip to Glacier Franz Ioseph, with the view of Mt Cook. The stop in Lake Wanaka, Queenstown and the charming town center of winter sports (beautiful bungee-jumping from the top of the mountain).
another trip to Te Anau where we could see the glow worms over the top of a limestone caves along an underground river. Then one day we devoted to a cruise along the Milford Sound, a fjord full of breathtakingly beautiful coves and steep waterfalls.
Transfer to Dunedin for a day of relaxation and then off to Christchurch along the beautiful south east coast, stopping to look closely at the Moeraki Boulders (pumpkins and sweet potatoes that fell from the Maori legend of a bag Arai-te-uru canoe during a shipwreck). Christchurch is a city very young as it is frequented by many universities (especially Japanese).
Before resuming the flight to Auckland and to return to Italy we have dedicated a day to go to Kaikoura to participate in a cruise Whale Watching … (No comment)
The return trip to Italy was very hard in London where we had a fairly long break we collapsed on the hard chairs of the airport.
Photos list:
PYRGI VIAGGI
Cerenova
piazza Antonio Morbidelli 21
tel: 06 99060004, 06 99060015
fax: 06 9900621
email: